If you are new to affiliate marketing, sub-affiliate partnerships can seem a bit confusing. What are sub-affiliate networks? What are the benefits and what are best practices for working with these partners? Sub-Affiliate networks can provide a plethora of value to both brands and publishers. but before establishing a relationship, brands should understand how these partners operate to ensure a productive relationship for all sides.
What are Sub-Affiliate Networks?
Sub-affiliate networks, like Skimlinks and Sovrn, are technologies that plug into the larger networks like ShareASale and Impact, acting as affiliate partners that house a large number of different types of publishers under their umbrella. Publishers opt to join subnetworks as opposed to direct partnerships with affiliate networks/platforms for two main reasons:
1) Convenience – Because sub-affiliate networks join brands direct on affiliate networks, they pull hundreds of brands onto their platform, which are available to publishers to start promoting immediately. So, instead of a publisher joining a network and several programs within said network, they can gain access to hundreds of brands across several affiliate networks all in one location. Partnering with sub-affiliate networks also eliminates the need for publishers to contract with several affiliate networks like Impact & ShareAsale as contracting with one sub-affiliate network like Skimlinks gives them access to brands living across those different networks.
2) Subnetwork technology and support is another attractive feature for publishers. Since subnetworks are solely catering to the publisher, they have a strong understanding of publisher needs, allowing them to dedicate resources to finding solutions to challenges. Reporting is also available in one location, as opposed to several, allowing the publisher to see all performance in a centralized location. This streamlined approach makes scaling much easier for publishers who have limited resources.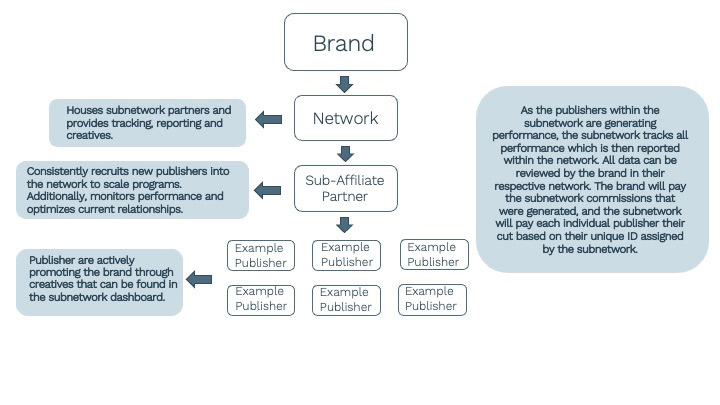 What types of partners work with sub-affiliate networks?
Not all sub-affiliate networks house the same type of publishers, and some networks are very well-known for a specific publisher type. For instance, some sub-affiliate networks are influencer and content only (I.e. LTK and Shop My Shelf), while others may have a heavier coupon and loyalty presence. Given this, brands shouldn't treat all subnetworks the same, and each should be optimized based on publisher category or if the network allows, by individual publisher.
How do sub-affiliate networks make money?
If you are curious as to how sub-affiliate networks and their publishers are paid out, sub-affiliate networks will take a percentage of the overall commission each brand pays out, while the remaining commission goes to the publisher who is promoting the brand. The split will vary from subnetwork to subnetwork, based on what they negotiate with the individual partners they work with. It is important to get an understanding of payouts regardless, so brands can adjust publisher/category payouts to ensure payouts are competitive but also match the value each publisher is bringing to the table based on the brands goals.
DMi Insight: When looking at DMi's top 3 subnetwork partners, YTD they have drove 10% of our brand rosters overall demand, with more than half of that coming from content focused networks.
Furthermore, we see even more demand stemming from influencer subnetworks. When analyzing DMi's top 3 influencer networks, YTD they drove a staggering 12% of our overall brands roster revenue.
What is DMi's Approach to Working with Sub-Affiliate Networks?
For brands, working with sub-affiliate networks offers an additional opportunity to scale and diversify your publisher base. Working closely with sub-affiliate networks allows brands to optimize with partners who simply cannot work in a direct capacity due to bandwidth constraints.
DMi's Partnership Development team values transparency and has a rigorous process for evaluating sub-affiliate networks. Because they are a network of publishers, before partnering, it's exceptionally important that we understand who is promoting our brands, their promotional methods and their quality control process. Over the years, many sub-affiliate networks have significantly improved their level of transparency giving brands insight into important data to better understand the performance coming through these platforms and how best to optimize.
When continuing to look at DMi's top 3 subnetwork partners, collectively they work with over 200K active publishers with highly engaged audiences, allowing brands to get their story in front on millions of eyes.
---
DMi Partners is a full-service digital marketing agency headquartered in Philadelphia. DMi has excelled in managing award-winning campaigns for recognized consumer, B2B and ecommerce brands since 2003. Its innovative email and affiliate management accompany an arsenal of digital services including SEO, paid search, ecommerce, branding and interactive, social media marketing and advanced marketing analytics designed to engage target audiences to drive revenue.
Staffed by big agency talent and offering the personal attention and agility of a boutique, DMi has a proven track record of delivering the highest quality marketing strategy, execution and results. Learn more by visiting dmipartners.com or contact info@dmipartners.com.